Sewing clothes can be challenging especially if you're still a beginner. However, without practicing you won't be able to develop and improve your dressmaking skills. Even if it is challenging, you need to start practicing on some dress patterns to get the hang of it and become an expert maker of dresses and even other types of clothes.
You have so much freedom to style dresses when you're the one sewing it. From the fabric type to the prints and patterns plus the additional embellishments, you can create any dress style that you want if you know how.
Here are some useful dresses sewing tips to make your sewing experience more convenient and easier.
Pick the Right Fabric
The type of fabric you choose for your dress can either make or break it. There is an endless variety of fabrics to choose from but you need to consider what style you're going after when choosing a fabric. Some look great for daytime wear while other fabrics look good for evening events. The weather and occasion should also be considered in choosing the fabric type for a dress.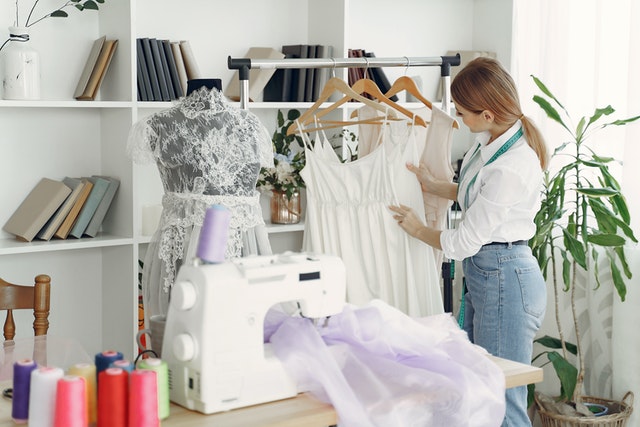 Get Accurate Measurements
Unlike sewing home decorative elements, getting the accurate measurements is important when sewing dresses and clothes. You need to get the right measurements to be sure that the dress will fit the wearer perfectly and is not too tight or loose. If you're making a dress for yourself, it is best to have someone assist you in taking measurements to get it accurately.
Find a Dress Pattern
It's easier to sew dresses and other clothes nowadays since there are plenty of sewing patterns available for sale on sewing shops. Before starting anything, it is important to choose a dress pattern first and stick to it. That way, you have a clear goal on what dress you want to make plus a detailed guide on how to create it perfectly. You could also practice on simple patterns first like these long skirt patterns before committing to a full dress.
Iron Before Sewing
A crumpled fabric is harder to handle and is more prone to mistakes. Before starting to sew, be sure to flatten the fabric first by ironing it. A flat fabric is easier to handle and manoeuvre plus it also looks good. Ironing first also applies when sewing the seams to avoid mistakes and achieve more accurate measurements.
Cut along the Grain
Each fabric has its own distinct grain. Knowing the direction of the grain is important especially when cutting the fabric. When you cut across it, there is a high chance the fabric will unravel and ruin your dress. Be sure to cut along it, especially when you're sewing clothes.
Now that you have your dress done, it is best to let the wearer try it on to see if there are still some adjustments needed to be made. While a dress is good to look at when displayed on a mannequin, getting a perfect fit to the wearer is the most important part when sewing dresses and clothes.