If you are a homeowner in the market for choosing a suitable flooring option, you would have realised that engineered timber, vinyl, hybrid flooring, and laminate flooring are among the most popular solutions available. They all look great and make for a good flooring solution due to their cost, durability and functionality.
There are differences which you will need to consider when choosing an option that best suits your individual needs. You can talk to an expert at hybrid flooring portarlington to discuss what might suit your budget and flooring requirements.
Vinyl and Hybrid Flooring
These planks are made similarly and are made of durable material made to withstand heavy traffic in homes and commercial spaces. Between the two, hybrid planks are sturdier because it uses stone to create a stronger core. Vinyl on the other hand has a PVC core. In terms of look and feel, they both look like and feel like wood and are waterproof and scratch-resistant which makes them easy to maintain for years to come. They are also easy to install and can be done by yourself helping you to cut down further on installation costs. While vinyl planks are glued to the sub-surface with a type of adhesive, hybrid planks are put together using a click system. Whether you are installing the planks yourself or using the services of a professional, the projects can be completed in a day or two. Vinyl and hybrid flooring is a great option for those who desire the look and feel of timber floors at a fraction of the cost. Both vinyl and hybrid floor planks are available at cost-effective entry-level prices up to high-endluxury options.
Engineered Timber Flooring
Compared to solid hardwood flooring, engineered timber is stronger and more durable because of its composition of a plywood base covered with a timber veneer. The veneer gives the planks a smooth high-end finish favoured by interior designers and architects designing upscale projects. Engineered timber is also considerably more moisture-resistant compared to hardwood. They can be bought in several thicknesses, lengths and widths to suit the design of your space. Unlike vinyl and hybrid floors, engineered timber needs a professional to install the planks. The floor planks are laid using a floating method where the tongue of one plank is inserted into the groove of another to lock them together. While this is the popular method, the second method which involves glueing down the planks is used for greater stability in high-traffic areas. Irrespective of the method used, the project can be completed in a day or two.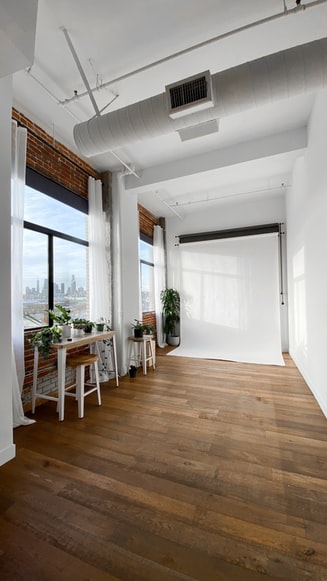 Laminate Flooring
Laminate floorboards are made using MDF (medium-density fiberboard) as their base and covered with an image layer that gives you the look and feel of real wood and then topped off with a wear-resistant clear layer. While it is favoured by homeowners and commercial establishments for its functionality and cost-effectiveness, one of the biggest drawbacks is its poor water resistance.