Gift wrapping can enhance the pleasure of receiving a gift and giving a gift. The effort taken to package your gift in a visually pleasing way is as important as the time taken to choose the perfect gift and it doesn't matter that it's going to be in pieces shortly after presenting it to the receiver.
The art of gift wrapping is as old as the custom of gifting, a good reason why everyone should hone it down to a fine art. It doesn't matter if you are wrapping gifts for her or gifts for him, you should apply the same level of enthusiasm for both. After all, who doesn't like a well-wrapped gift?
Let's look at some ways to wrap your gift, to make it stand out.
Eco-Friendly Wrapping
Every year tons of wrapping and packaging end up in landfills adding to environmental pollution. Next time you want to wrap a gift chooses an eco-friendly material like cloth instead of plastic or laminated paper. The Japanese art of gift-wrapping using cloth referred to as Furoshiki is a good place to start. You can make the cloth you use for wrapping, like a scarf or a stylish napkin, part of your gift.
Greenery
The idea behind creative gift wrapping is to make use of what's around you to transform your wrapping project into a piece of art. Foraged branches, leaves, herbs, flowers and even an artificial sprig of greens can take your gift to the next level.
Twine
Use twine dipped in vegetable ink or buys the coloured balls from a gift shop to give your gift a rustic look and feel. Coloured twine works well instead of plastic ribbon and sits prettier against craft paper, newspaper and plain recycled paper wrapping.
Flowers
Use fresh flowers or dried flowers with a bit of glue to jazz up your wrapping. You can choose artificial flowers if there are none to be picked from your garden. You can also try creating origami paper flowers or cloth flowers. Use a combination of colours over plain wrapping paper or keep it simple with natural dried flowers.
Old Newspaper and Magazine Pages
For a unique look choose an interesting page or two of a newspaper or a glossy magazine to give your gift stand-out value. You can use the puzzles section or the cartoon section to give it some interest.
Yarn Skeins
Skeins come in pretty colours and thicknesses. Use them in a single colour or a combination of colours to create an interesting detail over your wrapping paper, instead of the same old glossy ribbon rosette.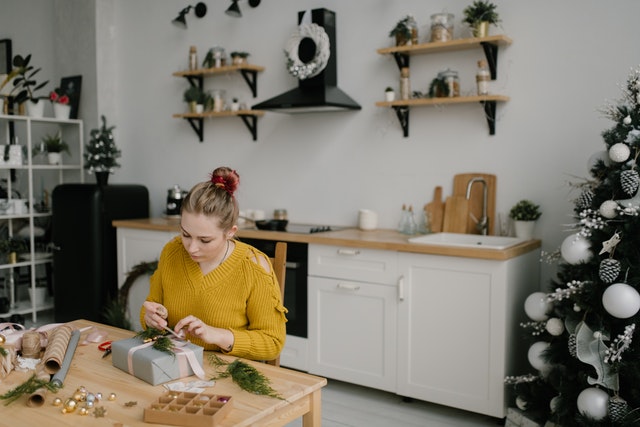 Pom Poms
Have you noticed how pom-poms are on everything, cushions, curtains and even quilts? Why not try using them as embellishments for your wrapping to give it some style and colour boost? Use different sizes and colours or use them in a monochromatic theme to exude simple elegance.  
Rice Paper
Try layering matching or contrasting coloured rice paper or tissue paper to create wrapping that is visually interesting instead of the regular paper that is available.