The cyclical dance of life involves the changing of the seasons, and soon autumn will have its turn. Many of us look forward to it since it is a wonderful time of year when the seasons change, we begin new endeavors, and our children begin kindergarten and other educational programs.
Autumn sees a change from the summer's heat to morning breezes that are cold and a chill in the air at night. Choosing the right clothing for unpredictable weather can be difficult when the weather becomes cooler because every parent wants their child to be clothed adequately to play outside while yet feeling comfortable within the building. Here are some pointers to help you choose the most important fall attire for your kids.
Since the weather might change quickly, have a jacket available for the child. Put on a T-shirt, a long-sleeved shirt, and a light jacket to create the onion look. Your child will put on or take off some clothing when the weather changes to make themselves more comfortable. Avoid choosing blouses or jackets with too many buttons or zippers because the youngest children may find them difficult to operate. Invest in a pair of comfortable, dependable shoes like gumboots that will keep your foot safe from harm and will keep you dry during a light fall rain. Be mindful of hats, scarves, and mitts/gloves. The morning air can be chilly, but when the sun rises, caps can be taken off.
Give your child a coat that can withstand the brisk air before sending them out the door. She will stay warm in this thick fleece hoodie, which has elastic bindings at the hood, cuffs, and hem. It's a terrific substitute for heavy jackets that restrict youngsters' ability to move around and run, jump, and play.
Even if it's a folktale that the majority of body heat escapes from the head, it's nevertheless necessary to cover your head on a chilly day, if only for the protection of your ears. Kids can put on one of your cute and cuddly caps as they leave the house. This traditional pom-pom-adorned polka dot one is unbeatable.
In the winter, your child can accessorize stylishly and warm up her wardrobe at the same time. Kitty cat faces on each end of this lovely leopard print scarf create a playfully perfect pattern.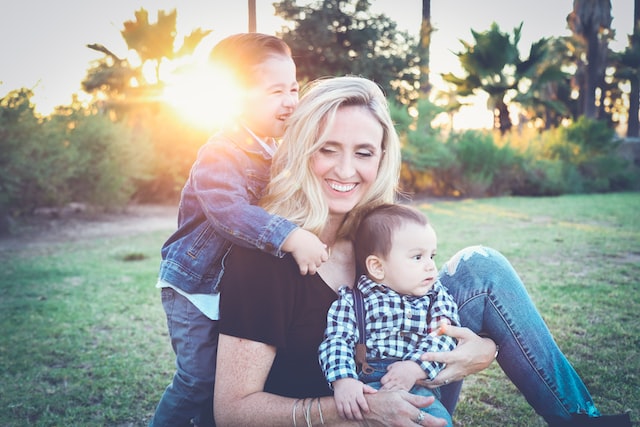 Vests are practical transitional clothing that provide additional warmth before you need to cover yourself from head to toe. When the weather gets colder, they can be layered. Due to its checkered lining, this hunter green vest with a fake sheepskin collar has an added touch of fall fashion.
Without a few misplaced gloves, spring will not come. We advise acquiring several reasonably priced pairs at the start of the season. These straightforward knit gloves are all you need for daily use going to and from school, even though you require specific gloves for activities like skiing, snowboarding, and outdoor winter play. You won't be sad if they lose one at this price.
Do you like fashionable Autumn Outfits for Your Kids
As the temperatures start to cool down, it's time to start thinking about Autumn fashion for your kids. If you're looking for some inspiration, check out these fashionable Autumn outfits for your little ones. From cozy sweaters to cute dresses, there's something for everyone. And best of all, these looks can be easily recreated at home with items you likely already have in your closet. So get ready to bundle up your kiddos in style!
Tips for Autumn Outfits
1. Start with the basics: a comfortable, well-fitting pair of jeans or leggings.
2. Add a cute top or sweater to keep your child warm on chilly days.
3. Layer with a jacket or coat for extra warmth and style.
4. Accessorize with scarves, hats, and gloves to complete the look.
Where to buy Autumn Outfits
There are a few great places to buy Autumn outfits for your kids. The first place to look is the Children's section at your local department store. You can usually find some great deals on clothing and shoes here. Another great place to shop for Autumn clothes is online. There are a few great online retailers that sell stylish and affordable clothing for kids. Finally, you can also check out consignment shops or thrift stores for some great deals on Autumn clothing.
Autumn colors
As the leaves start to change color and the weather gets cooler, it's time to start thinking about Autumn fashion for your kids. Here are some great ideas for stylish and comfortable Autumn outfits for your little ones:
– A cozy sweater or cardigan paired with a pretty skirt or dress is always a winning combination.
– Jeans or corduroy pants look great with a long-sleeved shirt or turtleneck.
– Layer a vest over a long-sleeved shirt for an extra touch of warmth.
– A plaid shirt is perfect for chilly days spent outdoors.
– Add a scarf, hat, and gloves to any outfit to keep your child warm when the temperature starts to dip.
Mix and match
When it comes to Autumn fashion for kids, mix and match is the name of the game. With so many cute and trendy pieces to choose from, it's easy to create unique and stylish looks that your little ones will love.
One great way to mix and match Autumn fashion for kids is to pair different tops with leggings or jeans. For example, try a long-sleeved top with a pair of patterned leggings. Add a cute jacket or cardigan on top, and your child will be good to go!
Another great way to mix and match Autumn fashion for kids is to layer different pieces. For example, start with a simple top like a tee shirt or tank top. Then, add a cardigan or jacket on top. Finally, add a scarf or hat to complete the look. This is a great way to stay warm while still looking fashionable!
Ready-to-wear outfits
As the weather gets cooler, it's time to start thinking about Autumn outfits for your kids. There are so many cute and trendy options to choose from!
If you're looking for something easy and stylish, check out our selection of ready-to-wear outfits. We've got everything from casual looks to more formal ensembles, all in colors that are perfect for Fall.
Whether your child is headed to school or a special event, we have an outfit that will make them look and feel their best. And with our mix-and-match separates, it's easy to create endless possibilities!